Fifth Grade Science Teacher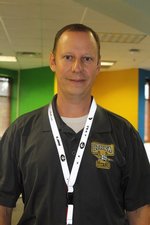 ONLINE LEARNING INFORMATION!! Parents and students... The fifth grade team has decided to conduct our online learning through GOOGLE CLASSROOM, a platform that you are already familiar with. Remember to access Google classroom you must first sign in using "student(your number)@carrollcountyschools.com and the password is your birth day (EX 04/14/2009). If you have questions or concerns, I will be available through email, text, or phone. My cell phone number is 770 715 - 8028.
Biography: I am a happily married man to my wife Tara, who is also an educator in Cobb County. She and I have 2 children who attend Ithica and one spoiled little dog named Buster. I enjoy many outdoor activities such as backpacking, camping, fishing, hiking, and hunting.