Welcome to Counselors' Corner at IES!

Thank you for visiting the Counselors' Corner! I am so glad you are here! I hope you find the information helpful and that it explains the role of the school counselor and the services available at Ithica Elementary for all students. Please feel free to contact me by email or phone if you have questions, suggestions, or concerns. Working together enables us to make Ithica a wonderful place to learn! #weareIT
Who are School Counselors?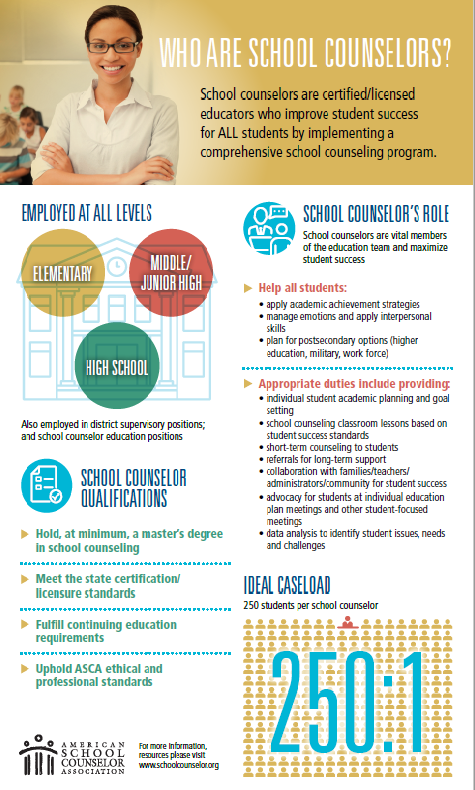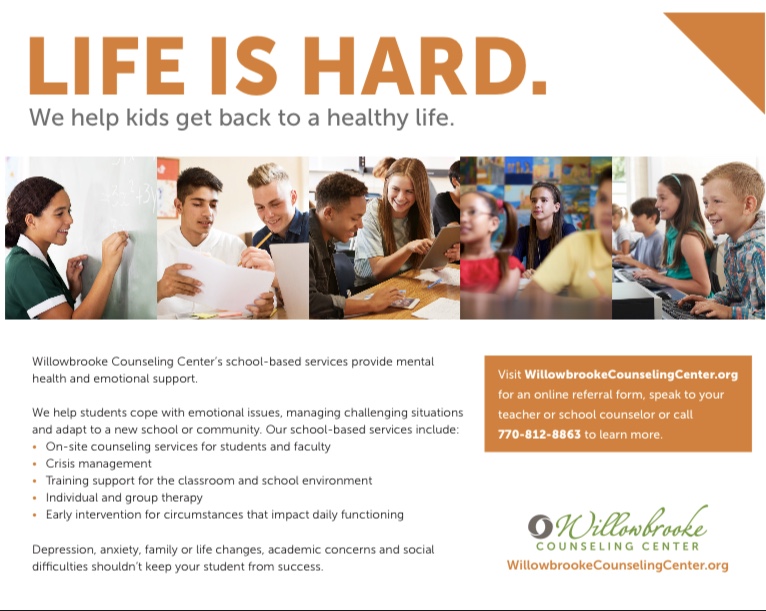 Ithica Elementary is proud to partner with Willowbrooke for the 2020-2021 academic year to offer school-based counseling for students that are in need of additional emotional supports and/or mental health services.
If you or your child would like more information about this program, please contact Mrs. Hindman to discuss the referral process. You may also self-refer for services using the information provided on the info-graphic above.
Ithica's Comprehensive School Counseling Program
The mission of the Ithica Elementary School Counseling Program is to provide a foundation for the continual success of every student by providing a comprehensive school counseling program that encourages the highest level of student achievement through the development of academic, personal/social, and career readiness competencies.
Parents and students can expect the comprehensive counseling program to be focused on the academic, social/emotional, and career development of all students. The counseling curriculum teaches problem solving skills utilizing Kelso's Choices, defining big and small problems, how to use "I" statements, and teaching choices for the resolution of conflict. The program teaches Mindfulness techniques to assist in stress reduction such as belly breathing and progressive muscle relaxation. The program focuses on inclusion and respecting differences utilizing social justice lessons provided through the Anti-Defamation League (ADL). The program also teaches body safety, utilizing the "Speak Up, Be Safe" curriculum; parents will have an option to opt out of this service. The program features a future-focused initiative meaning students will participate in career assessments and receive information pertaining to the Georgia Career Cluster Pathways.
Group Counseling is based on teacher referral and student needs. If your child is referred for group, parents will be provided a letter detailing the group curriculum and outline. Group will be voluntary and parents must provide written consent for their student to participate. Groups typically run 6 to 8 weeks with a maximum of 6 students per session and are taught during Exploratory.
Students can also be referred by administration, teachers, and parents for short-term individual student planning. Students can self-refer utilizing the counselor referral form. Students can expect that I will work with them to solve problems, discuss choices and consequences for behavior, and assist in learning new coping strategies.
Dear Ithica Parents and Students,
Welcome to the 2020-2021 school year! I am so excited to work with all of our Titans this year and I am looking forward to a phenomenal year that allows us to all grow and develop together. I know that we are still experiencing many challenges as we navigate through these unprecedented times. The unknowns can cause all of us to have fears and worries about this school year. To help parents and students, I have created Google Classrooms again and plan to utilize them throughout the school year. I encourage you and your student to access and use the resources available for your child's grade level. Inside these classrooms you and your child will find lessons on social emotional wellness, mindfulness, book readings, social justice, and career cluster information. Please use the classroom codes listed below:
5th Grade is IT! -5shym7z
4th Grade is IT! -szjmihu
3rd Grade is IT! -kgeik6a
2nd Grade is IT! -l5ff2xb
1st Grade is IT! -kjw334f
KK is IT! - 4szvm6e
If parents need to reach out to me please do, I check email and phone messages periodically throughout the school day and respond to concerns within 24 hours. Please click here to view additional resources available for you and your student. You will find educational resources, counseling resources, and a Google Form for families in need. I know we are all experiencing change to our daily routine right now and want to make sure parents have resources available to help students navigate any concerns they may have.
Titan Tough,
-💙💛- Mrs. H.
After being home for several months during the COVID-19 school closures, I imagine some of our students may have some pretty big feelings about returning to school. They maybe worried or scared and have some anxiety about leaving their grown-ups. Attached you will find some resources designed to help you and your child navigate the return to in-person instruction.
When things begin to feel out of our control, it's important that we center ourselves around the things we can control. Attached is a video about what is within our circle of control.